It is with great pleasure I take this opportunity to welcome you to Miami Yoder School and the 2014-15 school year. We are extremely proud of the academic and extra-curricular programs we offer our students. We stress high academic standards, respect for self, respect for others, and respect for your school. Teachers will challenge you because we feel being able to problem solve and overcome adversity is an important 21st Century skill. When you have a concern, you will be encouraged to advocate for yourself by discussing your concern with a teacher or staff member to address the problem. You will need to learn how to work with others. You are expected to be at school.
This quick reference guide to the handbook has been developed to help you and your parents learn as much as possible about school policies and procedures and the services we offer students. The full handbook can be found in the secondary office as well as on the website.
Come because you want to be here. Work hard because you want to learn. Work together to make your school the best it can be. Develop lasting relationships. Leave feeling good about what you have accomplished and the legacy you have left behind.
We look forward to this school year with great excitement and hope that all students will have a rewarding and successful year. We believe in excellence and that is our promise to you.
Sharon Webb
Miami Yoder Principal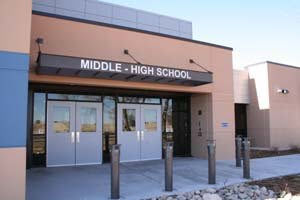 Departments: Secondary Principal
Grades: High School, Middle School